Product
Plastic Shredder - Standard Grinder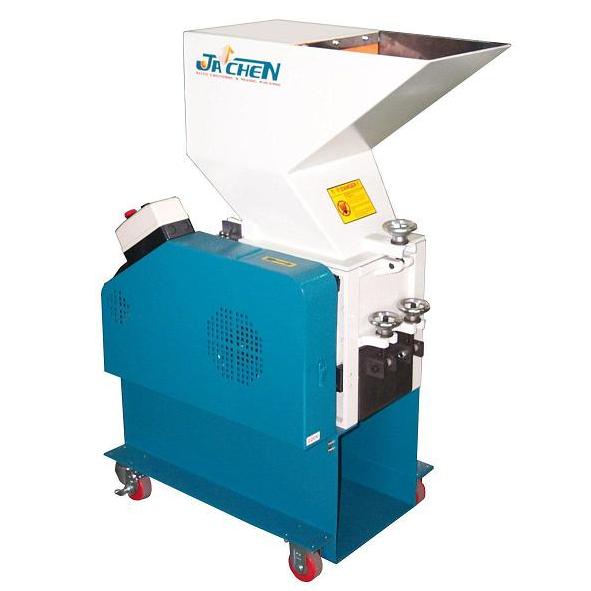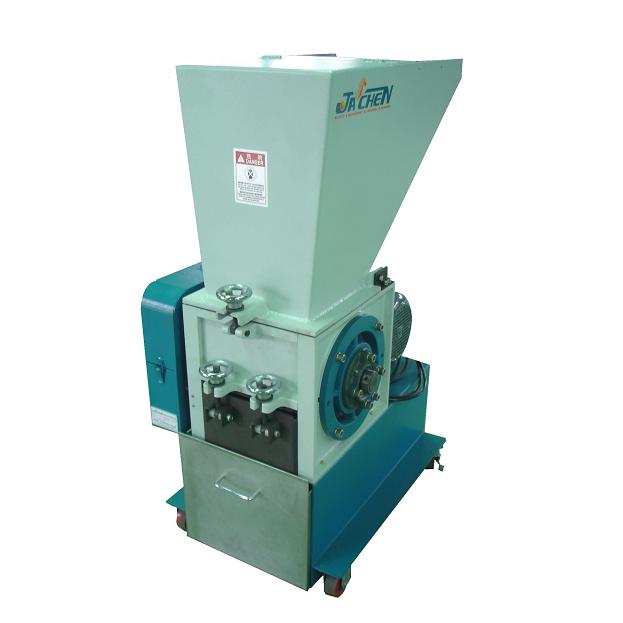 Product ID: JAA Series
JAA Series Plastic Granulators - Crushing Machines are major for crushing the waste plastic products from plastic injection molding machine or extruder.( Rubber, and dry thing, and etc.)
Granulators are suitable for shredding and grinding of all kind of plastics and Rubber - drums, containers, Pipes, P.E.T. scrap, Bottles and Pre-forms, Pails, Jars, Plastic Chairs and Tables, Plastic pots and Pot holders, rubber pieces 100% steel free, ABS, PE, PVC, LDPE, HDPE, Polystyrene, Polypropylene, thermo-plastics with glass fillers, Plastic trays, plastic bins, plastic bags, plastic pallets, rubber mats, electronic waste - plates, main boards ... etc.
Also, herbal products.
Features:
Faster cutter replacement, easy cleaning allows rapid screen changing.
Size of crushed granules adjustable depends on screen changed. (From Φ1-20mm)
Built-in emergency safety switch, allows automatic stopping, when screening base and hopper are being opened.
Special designs made to order for meeting clients need.
The unloading hopper is rectangularity can and due to comprehensive employment such as auto loaders, circle storage barrel and bag etc., to exchange the necessary attachment.
To surmount traditional angel design, effectively lowering the decibel value.
Easy maintenance, and less fee.
Product gain equal size after crushing.
Cutter material is made by Japan Hitachi SKD-11、SKH-2、T.C.T…etc.,
We can afford many models for granulated scrap and capacity and satisfied client` s requirement.
The design has contained vision aesthetic appearance to improve the machine valuable.
See more complete detail
| Model | JAA-200 | JAA-260 | JAA-300 | JAA-400 | JAA-500 | JAA-750 | JAA-1000 |
| --- | --- | --- | --- | --- | --- | --- | --- |
| Power (HP) | 3HP ~ 5HP | 7.5HP ~ 15HP | 20HP ~ 30HP | 20HP ~ 40HP | 30HP ~ 40HP | 50HP ~ 75HP | 75HP ~ 100HP |
| Inlet Size (mm) | 200x240 | 260 x 240 | 300x240 | 400x240 | 500x350 | 750x500 | 1000x600 |
| R.P.M | 280~380 rpm | 280~380 rpm | 380~420rpm | 430rpm | 560rpm | 560 rpm | 560 rpm |
| Rotary Cutter (pcs) | 5 pcs | 5 pcs | 6 pcs | 6 pcs | 6 pcs | 9 pcs | 12 pcs |
| Stationary Cutter (pcs) | 2 pcs | 2 pcs | 2 pcs | 2 pcs | 2 pcs | 2 pcs | 2 pcs |
| Contents (kg) | 30kg | 30kg | 40 kg | 50 kg | 70 kg | 80 kg | 100 kg |
| Capacity (kg) | 120 ~ 230 kg | 150 ~ 250 kg | 190 ~ 290 kg | 290 ~ 400 kg | 500 ~ 1,200 kg | 1,000 ~ 1,700 kg | 1,000 ~ 2,000 kg |
| Machine Size (mm) | 725 x 530 x 1,218 | 725x590x1218 | 1500x740x1600 | 1600x840x1620 | 2200x1320x2120 | 2700x1520x2800 | 2800x2100x2900 |
| Machine Weight (kg) | 265 kg | 290kg | 400kg | 540kg | 650kg | 1400kg | 2600kg |