Product
Auto Loader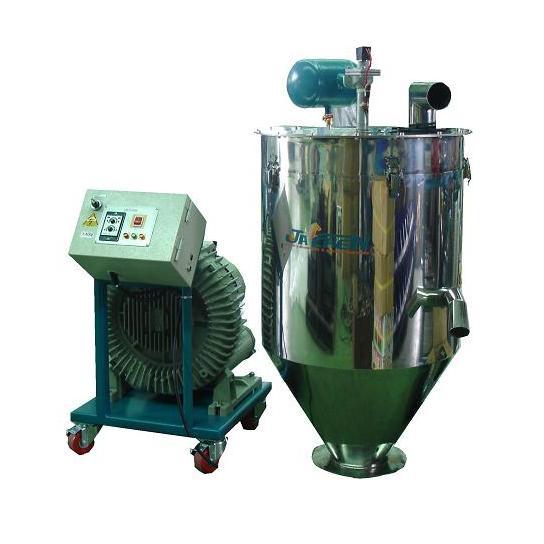 Product ID: JVP Series
This series is to load or convey the powders from place A to place B. e.g. from barrel to extruder. Moreover, all dry powders is suitable for this auto loader. e.g. salt, sugar, lime, calcium carbonate powder, plastic powders...
Features:
Super-strong sucking function has high efficiency.
Integrated large stainless steel material can storage tank.
Extra large dust-collect tank, doubled storage contents cleanable outdoors separately to avoid polluting machines and work place.
It can clean net reversible.
Material shortage warning device equipped.
Unique pulse cleaner design and effectively eliminating powder residue.
Special non-woven fabric can block the powder from leading accurately.
Suitable for PVC powder, calcium-carbonate powder, calcium-carbonate powder, monosodium, powder, and any dry powder conveyance.
Work well with pulsed bag filter, automated calculator, Lu style blowing machine, central feeding system.
See more complete detail
| Model | JVP-3 | JVP-5 | JVP-7 |
| --- | --- | --- | --- |
| Power (HP) | 3HP | 5HP | 7 1/2HP |
| Conveying Capacity (KG/HR) | 210 kg/hr | 310 kg/hr | 510 kg/hr |
| Conveying Length (M) | 15M | 30M | 40M |
| Conveying High (M) | 4M | 6M | 8M |
| Reverse Cleaning | Air Impulse Type | Air Impulse Type | Air Impulse Type |