Product
Crushing Machines- Roll-Conveyed granulator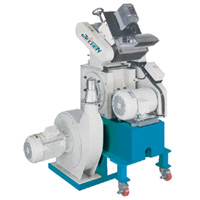 Roll-Conveyed Crusher
Product ID: JAR Series
JACHEN JAR series Crushing Machines are specializes in widely size of sheet material, waste, film, thermosetting edges, and rejects material. The operation of roll-conveyed crusher machine takes using of auto drag unit (with adjustable roller speed) to input the material. After recycled; the crushing material to store in the cyclone. Then crusher hereby the fixed proportion to mix with the material become recycle system. This system is easy to handle for operators and each flow path is designed to reduce the operation cost and waste yield.
Features:
Haul in material system has safety hanging to prevent breakdown the recycled material.
Roller can adjust speed by frequency inverter.
Recycled material enforce the film to the auto loader and then instant recycling.
Faster cutter replacement, easy cleaning allows rapid screen changing.
Size of crushed granules adjustable depends on screen changed. (From Φ1-20mm)
Built-in emergency safety switch, allows automatic stopping, when screening base and hopper are being opened.
Special designs made to order for meeting clients need.
Easy access to screen and cutting chamber for cleaning.
Access to the rotor and stator knives is simple with the divided cutting chamber which can be opened manually.
Cutter material is made by Japan Hitachi SKD-11、SKH-2、T.C.T…etc.,
We can afford many models for granulated scrap and capacity volume concern and satisfied client` s requirement.
The design has contained vision aesthetic appearance to improve the machine valuable.
All machine housing are manufacturered in a horizontal or diagonally divide robust steel weld housing.
Rotor shaft in high quality steel mounted on external roller bearing, full sealed and separate from the cutting chamber.
Each granulator can be fitted with blower and cyclong for scrap removal.
See more complete detail
| Model | JAR-200 | JAR-400 | JAR-800 | JAR-1000 |
| --- | --- | --- | --- | --- |
| Power (HP) | 2HP ~ 3HP | 7 1/2HP ~ 10HP | 30HP ~ 40HP | 40HP ~ 50HP |
| Inlet Size (mm) | 200 x 240 | 400 x 240 | 600 x 600 | 1,000 x 600 |
| R.P.M | 300 ~ 450 rpm | 450 ~ 650 rpm | 500 ~ 680 rpm | 500 ~ 680 rpm |
| Rotary Cutter (pcs) | 3 pcs or 5 pcs | 6 pcs | 9 pcs | 12 pcs |
| Stationary Cutter (pcs) | 2 pcs | 2 pcs | 2 pcs | 2 pcs |
| Wideness (mm) | 200mm | 400mm | 800mm | 1,000mm |
| Roll Speed (M/min) | 0 ~ 30 M/min | 0 ~ 30 M/min | 0 ~ 30 M/min | 0 ~ 30 M/min |
| Crushing Thickness (mm) | 0.03 ~ 3mm | 0.03 ~ 4mm | 0.03 ~ 6mm | 0.03 ~ 6mm |
| Machine Size (mm) | 470 x 680 x 1,590 | 1,600 x 840 x 1,620 | 2,700 x 1,520 x 2,800 | 2,800 x 2,100 x 2,900 |
Order Information:
Minimum Order: Negotiable
Branded Product, Buyer's Label Offered